PassSecurium™ is a cloud-based password manager. It can be used independent of platform and offers you complete freedom, combined with the highest level of security. You can manage your passwords online without worrying about security problems.

It has never been simpler to manage your passwords more securely and easily. Independently of the operating system you use or the equipment you work on, you can access your passwords from all devices. You do not have to worry about losing any password with this password software.

Your digital bunch of keys is secured with OTP (One-Time Password), which ensures that you are the only person that can access your data. The data are encrypted with 256-bit AES encryption.
Forget about your paper notes or insecure Excel lists – now you can save and retrieve all your passwords within seconds, either using your browser or the app. We provide a reliable password manager for those who value safety and comfort.

We have the right solution for everyone: whether Free or Standard for private individuals, or the high-end Premium and Corporate solutions, which meet all requirements of SMEs or large corporations.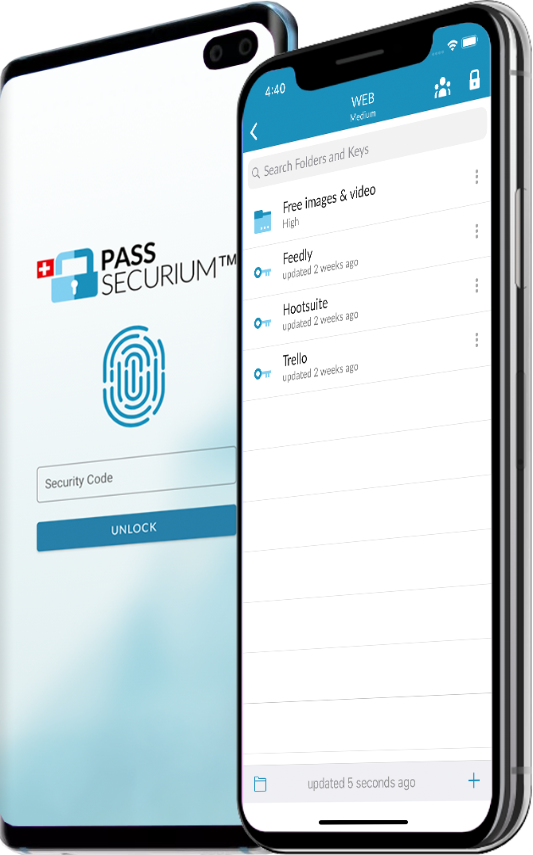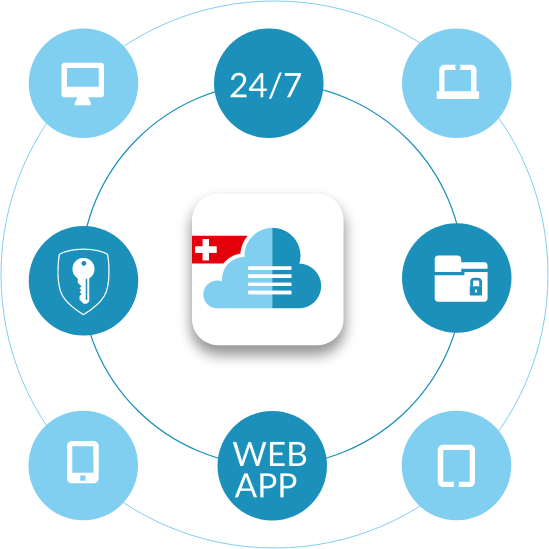 PRODUCT
HOW DOES IT WORK?

PassSecurium™ can be accessed at any time and from every location. The data are stored in the modern secure data center. This solution makes PassSecurium™ a very reliable password tool.

As a result, the data are digitally protected from access by the third parties.

Only the highest level of security is good enough for our system, as the data are secured with 256-bit AES encryption from the data repository to the customer and back again.

This ensures that any access by third parties is excluded and you can store your passwords without any concerns. Not every program for passwords can provide such a high level of security.
OPERATION VIA APP:
Unlock your access with your Touch ID and the user-friendly menu opens straight away. There are no major differences between this and the handling of the web version. Here, too, you can avail of an intuitive and easy interface. With this password tool the data are always synchronised immediately when you are online. This also ensures that all passwords are always up-to-date, no matter if a browser or the app are used to log into the password cloud. So you can manage your passwords online without any problems.
OPERATION VIA WEBSITE:
Log in via URL with your user name, master password and OTP (One-Time Password). The login process meets e-banking standards and can only be carried out with the OTP.
Password management program has intuitive web interface. The green plus button in the bottom right is used to create the folder structure and record the passwords. Operation is very easy and intuitive, thanks to the self-explanatory web interface.

USER MANAGEMENT
PassSecurium™ is a cloud- and role-based password manager, which works via an App as well as in a browser. You can create access rights on an individual basis, which allows you to give everyone access to the passwords intended for them.

FOLDER MANAGEMENT
Easily set up folders to create order, so that passwords can be stored in a structured manner. This makes PassSecurium™ intuitive password manager.

BACKUPS
No need to be concerned – your data are in safe hands even after a crash, no matter what happens. You can create a backup at any time, going back up to 7 previous days. This gives you peace of mind, as your data are in the safest place possible – PassSecurium™!

ENTERPRISE FEATURES
Enterprise PassSecurium™ offers you the highest level of security, the VPN tunnel provides even more protection of your data. The third-party access to the software for passwords is made impossible, all the way from the login screen to logging out of PassSecurium™. Data transfer is reliable, encrypted and meets the highest safety standards.

SECURITY MECHANISMS
The issue of password management should be approached as seriously as possible. One-Time Password (OTP) is an e-banking standard, which we have adopted for PassSecurium™ to ensure that your passwords are stored even more securely.